You are here: Competitions: Sports: Competitions:
Sports Competitions
FunKiX - Technology filled Sports Sack
Impact Controlled Technology

These are balls with a difference, using the latest technology these balls will light up on impact.

You can create fantastic light effects with the FunKiX as it contains intense blue LED's. With it's multi-function capability you can choose between constant, flash mode, strobe mode or impact.

Age: 3+
RRP: £9.99
Start date: CLOSED
Closing date: CLOSED
Impress and dazzle your friends with this funtastic FunKiX. It's pellet filled outer shell is just like a beanbag, however the innershell is full of amazing technical gadgetry.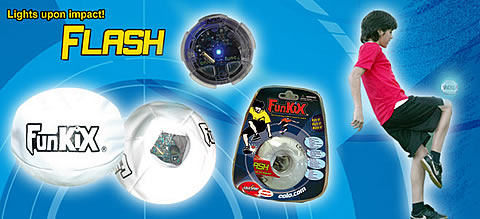 IMPORTANT: POST CODE HAS TO BE THE POST CODE FOR THE POSTAL ADDRESS THE PRIZE WILL BE SENT
Due to excessive unfair bulk entries from people and companies using automated programs, cheating as I call it, we have added 'post code' to the sign-up process. This MUST be the post code for the address we will send prizes to. We will manually check for blocks of identical post codes and remove them before entering the list into our random selection software to pick the winner.
COMPETITION NOW CLOSED
---
Articles